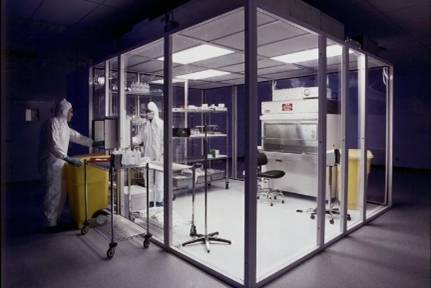 By our definition, the concept of workspace innovation involves a lot more than telework or establishing small-scale business centers. In the area of workspace sharing, numerous initiatives arise, from rent-a-school to the productive use of vacant office space in order to keep unwanted occupants out and keep the buildings 'alive'.
Another interesting development in the field of workspace sharing is the offering of Special facilities to start-up companies or research teams.
In Wageningen, a small property fund invests in the building and rental of special laboratory facilities. They offer shared services to startup companies in bioscience including office rental and usage of lab facilities.
Another interesting initiative is CHILL, Chemelot Learning and Innovation Labs. CHILL is an initiative of Arcus College, Leeuwenborgh Opleidingen, Zuyd Hogeschool, Maastricht University, DSM and SABIC. The facilities offer an inspiring environment that facilitates innovation and co-creation.CHILL offers companies the possibility to rent one of the state-of-the art labs, to outsource research and to make use of student assistance in research activities.
In need for a really clean room? Get in touch with Nanolab NL. The four Dutch Technical Universities and their research partners joined efforts and offer startups the possibility to use high tech nano facilities. At regular intervals you  may even qualify for a research voucher worth €7500!
Officebooking supports the rental and occupation management of lab facilities. Our booking engine enables users to easily search for lab spaces, make reservations and book additional facilities, such as specific equipment, student support or cleaning services. Lab owners may determine who is allowed to their rental community, therefore securing access and allowing for easy invoicing and scheduling.