University Medical Centre Groningen (UMCG)
The University Medical Center Groningen (UMCG), a leading institution in medical research and healthcare, partnered with Officebooking to enhance their understanding and optimize the utilization of their Education Center and Main Building spaces. The medical centre is affiliated with the University of Groningen and offers supraregional tertiary care to the northern part of the Netherlands. It employs almost 17,000 people and numbers almost 1400 beds.
The UMCG main campus stems from 1997 and needs improvement and renewal to meet with future care demand. In Januari 2023 the UMCG presented a comprehensive building program up to 2035 in which the campus will be gradually renewed, UB2035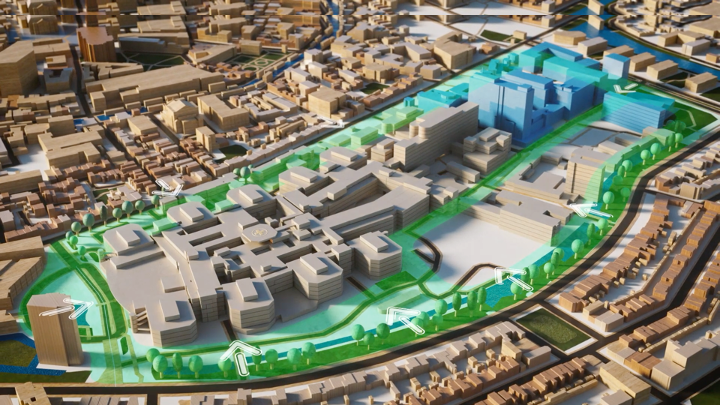 For the building program and subjective movements and rehousing projects to be successful, UMCG contracted Officebooking to support the UMCG in Workspace management. Within various projects occupancy and footfall sensors are installed to monitor occupancy and utilization in various building parts of the campus. The Officebooking workspace management platform supports self-service reservation management, banqueting and event planning for all UMCG employees and affiliated parties such as the University of Groningen. The entire contract covers a duration of 5 years, commencing in February 2023, and encompasses a total of 2500 desk sensors, 700 room sensors, including footfall sensors, and 700 room booking panels.
"In the hospital of tomorrow, the patient is not only at the center, but the location and treatment are tailored to the most optimal healthcare experience. Patients are not only helped as quickly and effectively as possible, but the hospital also serves as a central hub in the city where you work, learn, and care for each other."

Eric Teppema, Project Leader UMCG Builds 2035
Sensor Implementation
The installed room sensors, designed to monitor both climate and occupancy, track various environmental parameters such as temperature, CO2 levels, light intensity, sound, and humidity. These measurements offer insights into the control of room conditions, thereby facilitating the alignment of temperature with actual room usage, ultimately leading to significant energy savings. The Peoplecounter sensors, strategically placed in areas like lecture halls and waiting zones, accurately count individuals without capturing identifiable characteristics, providing essential occupancy data. Desk sensors are installed at every workstation to monitor occupancy.
Reservation Management and Implementation
In addition to the sensor systems, UMCG integrated the Officebooking reservation management platform. This system was introduced to all administrative staff, particularly within the medical departments, leveraging a sophisticated rights system. The platform allows for self-service booking of meeting and training rooms, where priority is granted to centralized staff members. This implementation streamlined the process of room booking, ensuring efficient utilization while providing flexibility for essential personnel.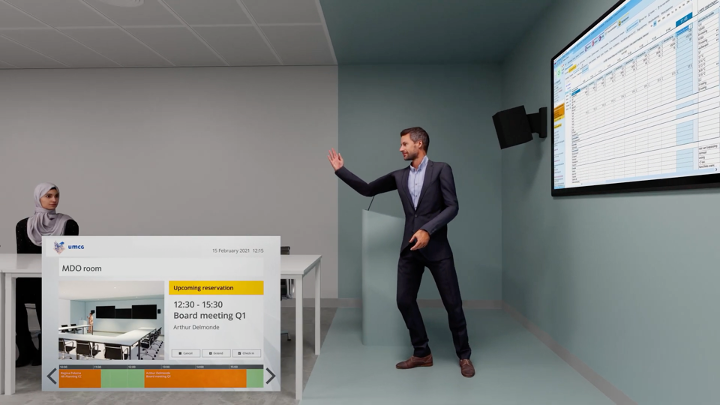 Digital Signage
All meeting and training rooms, practice area's and MDO spaces have a Roombooking panel that shows current and upcoming reservations. With the use of the mobile app staff is able to create ad hoc reservations. In the Education Center all daily events are shown on Large Format Displays at key turning points in the Area.
Analytics
All data is presented in the Officebooking Analytics module for analysis of occupancy, no show and space utilization. Reports are also accessible via Excel downloads or via an API to be used with dedicated Analytics tools.
Ongoing and Future Initiatives
The success of the initial projects has paved the way for future initiatives. UMCG is moving forward with plans to implement large-scale desk booking and monitoring, extending workspace management and monitoring to the new Psychiatric Centre. Additionally, they are exploring Wayfinding solutions for visitors, students, and employees, emphasizing a comprehensive and user-centric approach to optimizing spatial efficiency within the institution.
Outcome and Future Prospects
The collaboration between UMCG and Officebooking has resulted in a proactive approach to space management, leading to more effective resource allocation, energy efficiency, and improved user experiences within their facilities. The data-driven insights obtained from sensors have already proven invaluable in understanding space usage patterns. The ongoing initiatives are geared toward further streamlining workspace utilization and creating an environment that enhances productivity and user satisfaction.
The partnership continues to be marked by a commitment to innovation and continuous improvement, working towards the mutual goal of optimizing workspace efficiency and user experiences within UMCG's diverse facilities.
Full video on the Campus Project can be found here: https://www.youtube.com/watch?v=TLefLvRXVBg