The Officebooking platform enables you to share your company resources and make them available for booking by your users or employees. We support a number of interaction or touch points for end users including web, mobile and interactive signage solutions. This way your users are supported throughout their complete journey.
This start-up guide will walk you through the process to set up synchronization with Microsoft Office 365 with Graph.
Synchronization information
For the calendar sync, only new reservations, created after activating the integration, will be synchronized. Any new reservations or changed reservations in Office365 will be synchronized with Officebooking right away. Do you want to also synchronize your existing reservations created in the past, please contact Officebooking Support and we will help you import old reservations.
User data from Active Directory (employment status, user groups, employee id) is synchronized once a day at night. Any changes made in Active Directory will show up in Officebooking the next morning.
Step 1: Access to OfficeAdmin and Azure AD environment
This guide assumes someone in your organization (or Officebooking Support) has already created an Admin account for you. This account will give you access to the OfficeAdmin portal.
Next, you'll need administrative access to your company Azure AD environment. Once you've gained access to both environments you can start implementing the integration.
Step 2: Register Officebooking as an app in Azure
Follow the instructions below or via this link (https://docs.microsoft.com/en-us/graph/auth-register-app-v2).
Sign in to the Azure portal: https://portal.azure.com/
In the left-hand navigation pane, select the Azure Active Directory service.
Then select App registrations > New registration.
Give the registration a meaningful name, for example 'Officebooking Graph'.
Choose 'Accounts in this organizational directory only' as the account type.
Next, the Redirect URI type in the dropdown should be 'Web'.
Enter https://app.officebooking.net/api/microsoft_graph/notifications/notification_url as 'Redirect URI'.
Select 'Register'.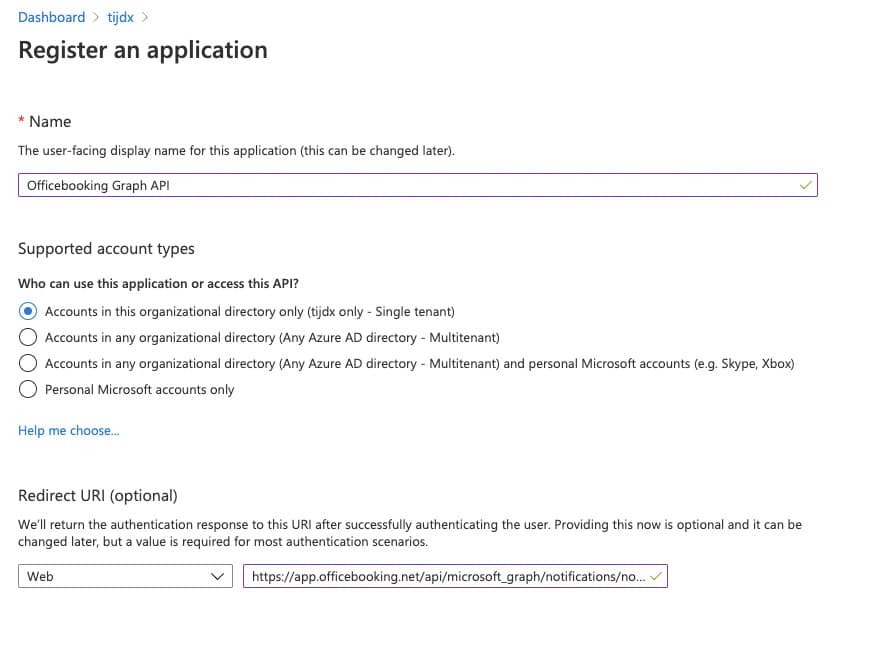 Step 3: Saving the required API values
After registering the app, you will be redirected to a new page where you can find the following values. Save the Application (client) ID and the Directory (tenant) ID. We need these values later.

Step 4: Creating a client secret
Select 'Certificates & secrets' in the 'Manage' submenu.
Select the 'New client secret'.
Enter a value in 'Description'.
Next, select one of the options for 'Expires'.
Then select 'Add'.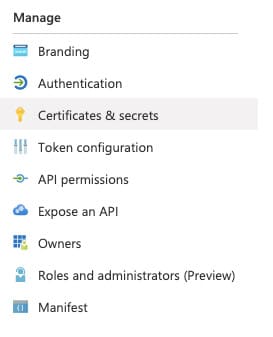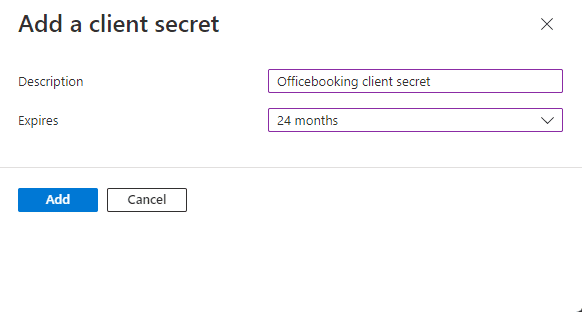 6. After selecting 'Add' you will be redirected to a new page, here you can find the client secret 'Value'.
7. Store the value in your favourite password manager, it will be hidden afterwards. You will need it later when connecting Officebooking in the OfficeAdmin.

Step 5: Configure Permissions
Select 'API permissions' in the left menu.
Select 'Add a permission'.

Select 'Microsoft Graph' as API.

Then select 'Application permissions', not 'Delegated permissions'.
Next you have 2 different options for the Officebooking app: you can choose to sync only users (in situations where you don't want to pull the  meeting room calendars) or sync both users and calendars (meeting rooms). Officebooking always needs user permissions to successfully synchronise calendars. Other than that the user sync will make sure that once a user no longer works for your company, its account will automatically be deactivated in Officebooking. The user will no longer have access to Officebooking.
To sync only users:
Open the 'User' tab.

Select 'User.Read.All'.

Select 'Add permissions'.

To sync both users and calendars:
Open the 'User' tab.

Select 'User.Read.All'.

Then, open the 'Calendars' tab.

Select 'Calendars.ReadWrite'

Select 'Add permissions'.


Next, you have to grant Admin permission to add the permissions to the App.
Select the button 'Grant admin consent for [your company name]'
Follow the steps to successfully grand admin consent for your company.
The status for all permissions should say 'Granted for [your company name].


Step 6: Add the API access token to the OfficeAdmin portal
To activate the synchronization, you have to add the token to the OfficeAdmin portal.
Login to the OfficeAdmin portal and go to the 'Settings' page in your menu. Then select 'Integrations' in the second menu.
Here you choose the 'Office365' option.
Then enter the different data, that you saved earlier, as follows:
Domain: enter your Office365 company domain. For example: tijdx.nl (without www.).
Tenant id: Directory (Tenant) ID
Client id: Application (Client) ID
Client key: the Client secret Value, not the secret ID