By checking in and out in the app, you can show that you have actually arrived at the location. This way, your colleagues know that you are there and where you are sitting. You also create a better overview of who has been in the office and when.
If you have made a reservation, there are multiple ways to check-in. You can check in by scanning the QR code sticker at your workplace or check in via your reserved workplace in the app. When you check-in, you start a session. Your name will now also appear in the list under 'Who's at Work'. It is possible to set that you do not want to be visible to other employees in the system, which you can do via the 'Settings' screen.
Check-in and check-out with the button in the menu bar
You can check-in in the web app via the 'Reservations' menu. Therefor, you click on the 'Check in' button next to your reservation. Keep in mind: the 'Check in' button is only showing when your reservation is upcoming and therefor valid to check-in.
When selecting the button, a pop-up with the reservation on which you can check in will automatically open. Checking out works in the same way, using the same button next to the reservation in your 'Reservations' menu.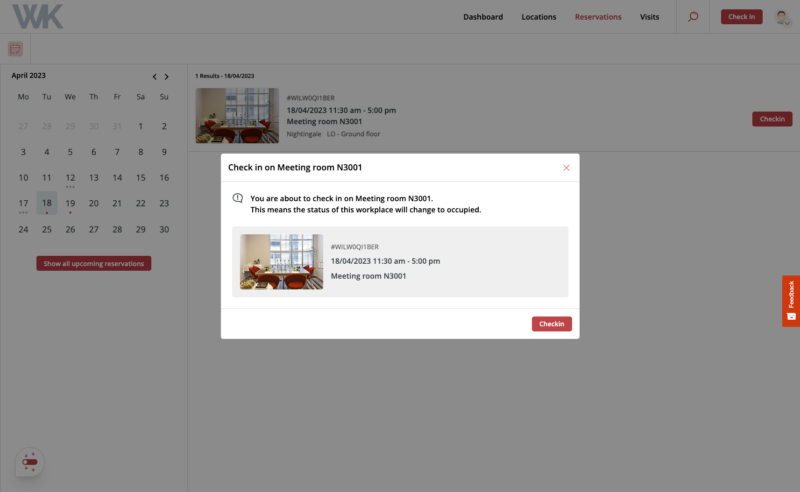 Problems with checking in
Checking in can be done in different ways. If you are unable to check in via the web app, you can also check in using the mobile app, for example by scanning the QR code sticker on your reserved desk with your phone.
Still having trouble checking in? Contact the contact person within your organization.