1. Select your location
After logging in, you will be directed to the dashboard which shows an overview of all locations within the organization. Select the location where you want to make a reservation. If your organization only has one location, you will be taken directly to that location screen.
If you always work at one location and want to make selecting your location easier, indicate your default location on the 'My profile' screen. For some customers, your default location may already be set.
The location page has two different views: a list and a floor plan view. You can switch between the two views using the icon in the top right of the screen. You can set your preferred view in your personal profile. On the floor plan view, you also have the option to easily switch between different locations and floors.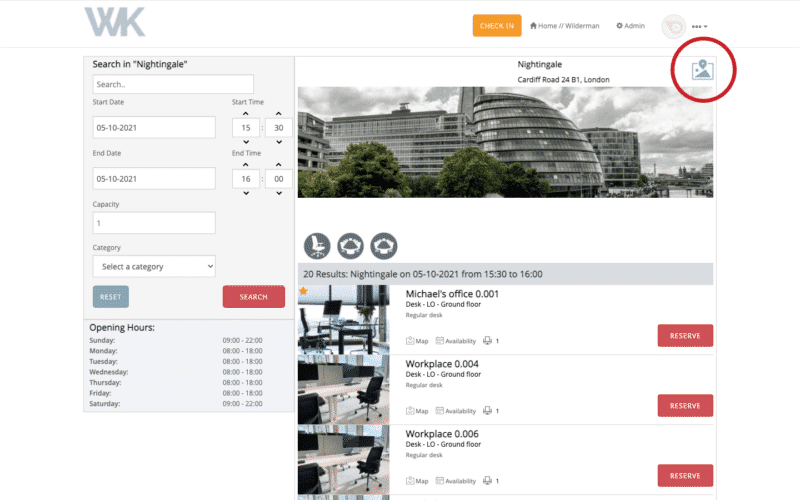 2. Find the workspace/room/zone you want to reserve
In the web app, you can easily search for the workspace or room you want to reserve using the list or map view. Search by name of the workspace/room or select a date and time slot. You also have the option to search for the number of available seats, for example, in a meeting room. The search results are displayed based on availability. Workspaces that are blocked are displayed with a gray dot. These spaces cannot be reserved, and you cannot check in here.
You can recognize an available workspace/room by the green dot. Select the space to see more information. Then select the red "Reserve" button to confirm your reservation.
Reserving a workspace within a zone works the same as reserving an individual workspace up to the maximum number of available seats. In the map view, a zone is displayed differently from an individual workspace. The marker displays the number of available seats.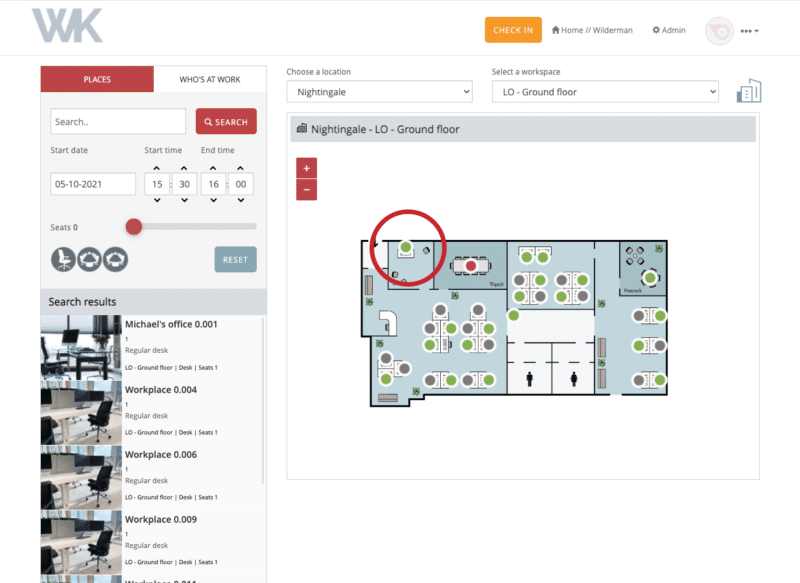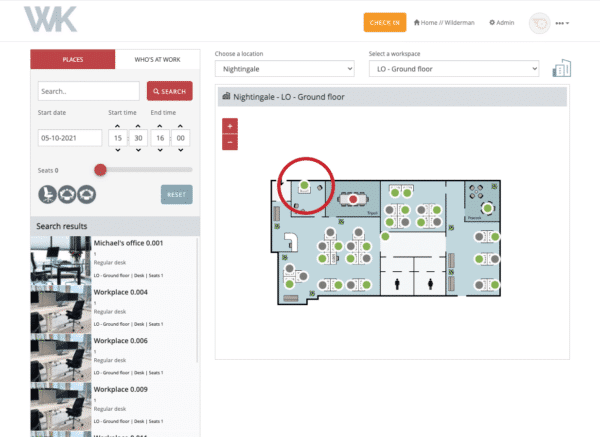 3. Choose the date and time of your reservation
After selecting the 'Reserve' button, a pop-up will appear on your screen.
Title: Here you can give your reservation a title. This is not mandatory. If you leave the title field blank, the system will automatically fill in your name and first name as the title of the reservation.
Date and time: The next step is to select the correct date and time. If you have already filled in this information during your search, it will be automatically populated here for you to verify. With the '1 day', '1 hour', and '30 minutes' buttons, you can easily and quickly choose a time slot for your reservation. The '1-day' button is based on the opening hours set for the location where you are making the reservation. If you want to make a reservation for today and the day has already started, the start time of your reservation will be the next available time slot.
Comments: Add any comments you would like to your reservation.
The number of participants: Specify the number of participants you would like to make the reservation for, for example in a meeting room.
Cost center: In some cases, there may be costs associated with reserving a specific workspace/room. If this is not applicable to your organization, you can leave this window blank.
Invite participants: You can invite multiple participants to your reservation. Your participants will receive an email with the reservation details. If the visitor registration module is set up for your organization, external participants will be registered as visitors and will receive a confirmation of their visit.
Amenities: Some rooms may offer additional services or catering that can be added to your reservation. Select these amenities and specify the desired quantities per amenity.
If you want to make another reservation with the same details, but for example, for a week later, select the 'Make another reservation' checkbox before saving. This will keep the pop-up open after saving your first reservation, allowing you to simply change the date for the next reservation before saving it as well.
If you want to make a recurring reservation, read here for how this works.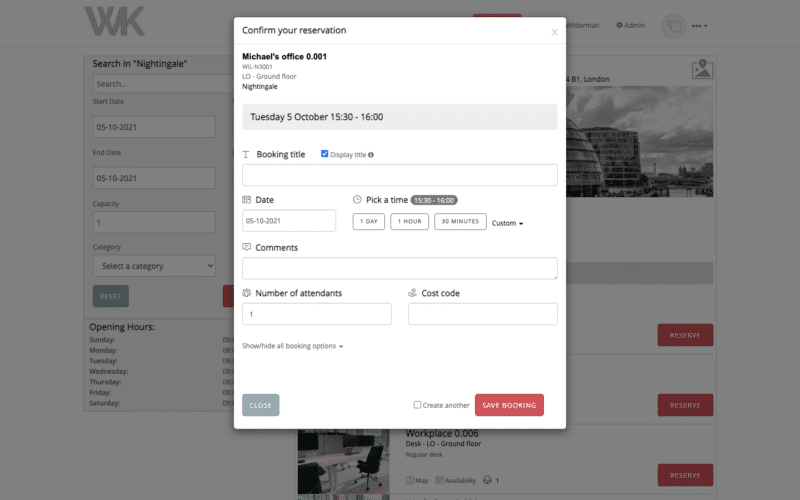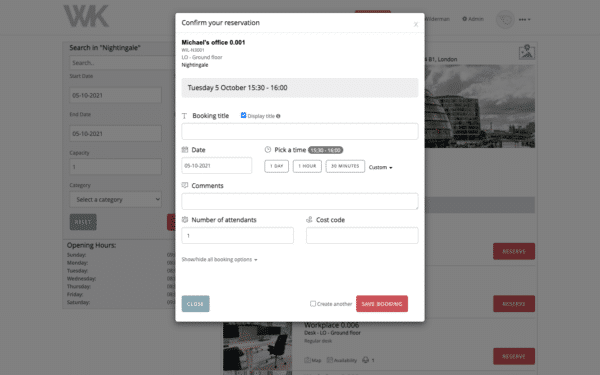 4 You will receive a confirmation email
After saving your reservation, you will immediately arrive at the 'My reservations' screen. Here you get an overview of your reservations and you have the option to change, cancel or check in directly at the start of your reservation. You will also receive a confirmation email with all reservation details.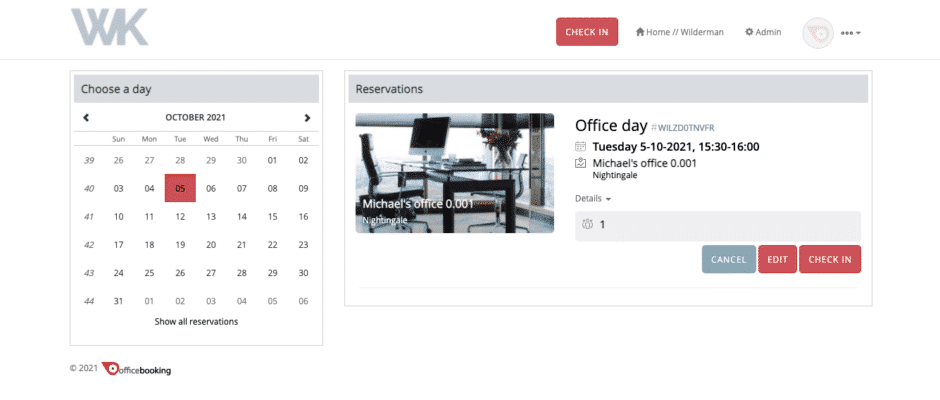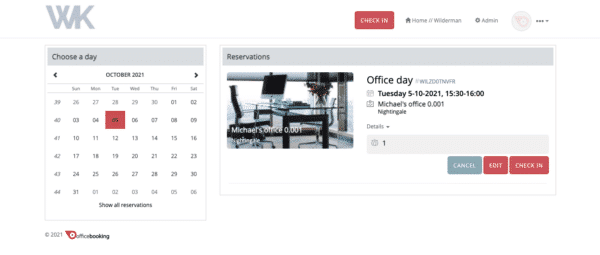 Problems with booking?
Unable to book an available workspace/room? Always check the conditions of your organization. It may well be that extra measures have been taken which means you can only book for a few hours a day or a few times a week. It is possible that a certain workspace/room can only be reserved by a certain group of users. If in doubt, also check the schedule of the workspace/room in question, so you can quickly see if a reservation has already been made.
Still unable to book? Contact the contact person within your organization.